Akihabara style = akiba kei. Music from the anime subculture can be gekiteki because people do acting: they pretend to be batman or whatever. . . they wear costumes and perform "in character." Within "akiba-kei", there's a whole genre of wanna-be teen idols that just sing one anime theme song after another, but the people I focus on tend to create their own unique characters and have a more consistent, conceptual, rock-opera approach.
This is the last in the 9 parts of my GEKITEKI project.
It's also the least completed. Because I don'T know anyone from this subculture. Please help me out if you know a band that should be included in this category.
his is the end of the gekiteki project – but in a way it's also a BEGINNING- because from now on, we all have a resource. we all have this little corner of the net to point to. And hopefully in the months to come, maybe some new people will show up, or tell their friends . And in that way, I hope that new people show up looking for one band, and find dozens of other related bands that they didn't know about. and in return i hope that these people will help me fill in the many gaps in the information.
From now on , I'd like to see people sending in lyrics – especially lyrics that connect to themes that other bands also express. Also: album covers, especially if those album covers have some imagery or symbolism that connects to earlier bands. imagery that connects to particular avant-garde japanese theatre or design crews and etc. It'd all about building the invisible chains of influence!
Anyway, on with the actual report:
---
伝承歌劇団 (denshouka gekidan)


MEANING : the literal translation is "Legend-song Theatre Troupe", but their "english name" is Legend of Europa.
CITY . . : tokyo
ERA . . . : 1995
SOUND . . : power metal!
JAPANESE TRADITIONAL INFLUENCE : '70s shojo manga like SEINNTO SEIYA, ???
THEATRICAL POINTS . . . : members are characters, they have a 'narrarator' who explains the plot between songs
CLIQUE . . . :
STYLE . . . : theatrical
ALBUM TO GET . . . : 月影の深淵
HISTORICAL ATMOSPHERE :
WEB . . . : http://www.legend-of-europa.com/p/index.html, myspace
TDR REPORT . . .:

These are 4 older guys who are dressed like European royalty. But European royalty as often portrayed in cheesy '70s girl manga, which makes their main influence Japanese!
There was a huge trend of "prince charming"-type girl comics back in the '70s . . .which these guys are doing a power-metal version of. For women? For men? Who knows? Apparently this band's main inspiration is the manga called SEINNTO SEIYA ('saints of the constellations') which had to do with constellations taking on human form (as European princes. . . if European princes were played by the drag-kings from Takarazuka all-women's vegas-style showtune theatre) and fighting elaborate battles with one another.
Apparently these伝承歌劇団 guys also have characters and the songs tell the story of their own epic battles. Are they also constellations? Are they fighting each other ? or someone else???
Let's let their Myspace provide the answers:
"Densyou-Kagekidan" have many stories of each work and performance.
One of them who is 'storyteller' is special part of them, tells their stories or its change of situation to the audience.
Then other members in the band express different scenes with their song and music.
This band is exactly entertainer!
---
SOUND HORIZON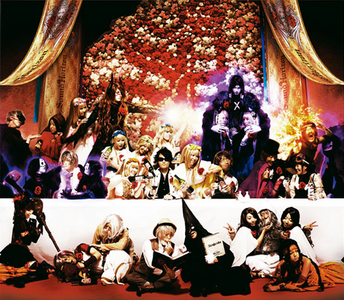 MEANING :
CITY . . :
ERA . . . : 2001~now
SOUND . . :
JAPANESE TRADITIONAL INFLUENCE :
THEATRICAL POINTS . . . :
HISTORICAL ATMOSPHERE :
These guys apparently started out doing doujinshi (fan-made manga) and then started doing plays based on their manga, and now mostly put on these huge, Takarazuka-style plays, complete with dozens of characters! Amazing! The shows seem to be a mix of influences from fantasy-themed anime, mixed with Takarazuka theatre, and a lot of "european" exoticism.
Sample plots of their albums (taken from their fan site, above)
Roman is the 5th Story CD of Sound Horizon released on November 22, 2006. A series of concerts soon followed. In year 2008, a manga based on the album was created with 2 volumes. The album was influenced with French language, making the songs speak a few Frenchwords. The whole story was based from a French custom, and it follows the story of Hiver Laurant, a child who died premature. He gathers Roman together with his two dolls, Violette and Hortense to know the mystery under Hiver's life in the real world. Roman is a French word for 'story", making the flow of how the stories in the album sung and told legitiamtely.
Any word that Sound Horizon recognizes denshouka gekidan as an influence? denshouka gekidan was around before, it seems.

Any word of any sound horizon influences, in comics, theatre, music, or costume design?
and how did they get the money to put on such elaborate shows?
how do they see themselves relative to western rock opera bands like tommy or anotherbrick in the wall, or stalin claus superstar? or things like that?
---
split memory man

MEANING : :
CITY . . :
ERA . . . : 2003 ??
SOUND . . : glam rock
JAPANESE TRADITIONAL INFLUENCE :
CLIQUE . . . :
STYLE . . . : akihabara, visual kei
ALBUM TO GET . . . :
THEATRICAL POINTS . . . : costumes, backstories of each character
HISTORICAL ATMOSPHERE :
WEB . . . : no.
TDR REPORT . . .: YESSSSSSSSSS
Glam rock with an "outer space" theme and some sort of sci-fi plot that I couldn't understand when I saw them. THey were totally fun though!
---
Planet gold 2008

MEANING : :
CITY . . :
ERA . . . : the fuuuuuuuture, 2008???
SOUND . . : anime theme song
JAPANESE TRADITIONAL INFLUENCE :
CLIQUE . . . :
STYLE . . . : akihabara / theatrical
ALBUM TO GET . . . :
THEATRICAL POINTS . . . :
HISTORICAL ATMOSPHERE :
WEB . . . :
TDR REPORT . . .: YESSSSSSSSS
Sort of the same deal as SOUND HORIZON, but much more low-budget, inept, Vegas-y, and intentionally campy. Here's what I said when I first saw them:
Their stage show was so ill-advised. They did one song, then spent like 15 minutes explaining about their superpowers and how they had like 18 strength or what their armor class was, and by the time they got around to winding up their elaborate back-story, it was time for the show to be over. I think they got half way through their second song.
It was like kabuki anime in vegas. The green lady was named like "Zebera Green Sex", and the blue lady was something like "Sex Zero Super Zebra". I think the red guy was just "Sex."
Apparently they came from some kind of zebra planet to teach humans more advanced fucking techniques.
Not pictured, the holes in the ass-cheeks of the red guy's superhero uniform.
All their songs were karaoke-style, and the music was fake anime-theme-song-y. It was a glorious mix of bombast and ineptitude.
I should point out , in their defense, it was intentionally campy. Volitional camp, if you will. At one point they dragged a *volunteer* from the audience and inducted her into their fan club with the following initiation — the dude bent over her and emptied a small tin of semen-looking syrup into her mouth and made her chant "I AM FULL OF ZEBRA SPACE SEX SUPER! I AM FULL OF IT!"
---
CYMK

MEANING : : cyan yellow magenta black ???
CITY . . :
ERA . . . :
SOUND . . : 8-bit electronica
JAPANESE TRADITIONAL INFLUENCE :
CLIQUE . . . :
STYLE . . . : akihabara / theatrical
ALBUM TO GET . . . :
THEATRICAL POINTS . . . : see below!
HISTORICAL ATMOSPHERE : '80s
WEB . . . : here
TDR REPORT . . .: YESSS
These guys have a novel interpretation of nerd-rock: they are really into '80s 8-bit (low resolution) video games. They do all their songs with old-school, 8-bit synths, of course. But what sets them apart from the other '8-bit music' nerds is this: they do the whole show with a video projection. The video is 8-bit versions of themselves as video-game characters, playing these imaginary famicom games that the songs are about. Is it a music video? Or a video game in progress? Are the songs about the game or is the game about the songs? It's all very conceptual but too cute to be really pretentious. The singer sings about jumping over a car, and lo! The video-game-character-version-of-the-singer jumps over an 8-bit car! The band and their 8-bit analogs do the same dance moves, they're dancing with each other!
again, like with the burlesque section (#8), this is really incomplete. Anyone who has any more ideas for bands, please leave a comment! Thanks!
5 comments
Tags:
gekiteki
—